Way to Stay Healthy
Growing vegetables from the comfort of your own home can save you countless of dollars from purchasing produce at the supermarket. Indeed, nothing really beats the taste of homegrown vegetables. Gardening as one of the most popular hobbies in the world, provides soothing therapy for some. Growing produce is a fun, rewarding, and educational experience for everyone in the family, with the gardening secrets that can be passed on from one generation to the other.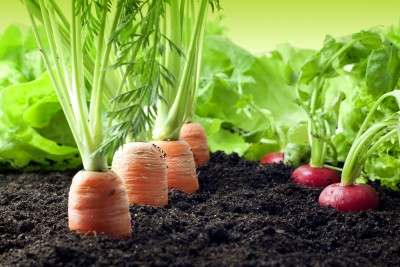 In fact, it can actually be gratifying to visualize your vegetable garden bloom in season and filled with full-grown cabbage, onions, carrots, peas, cucumber, artichokes, herbs, radishes and more. Aside from saving a lot, growing your own produce at home ensures that you only eat healthy organic and not chemically treated vegetables grown commercially.
Before you even start gardening, there are various things that you need to consider such as preparing, planning and maintenance. And this process is part of the fun and excitement of it! More information on how to grow the best vegetables .
Eggplant
It's true that eggplants can be a pernickety crop. But, after getting your eggplants off to a good start and after keeping them warm and away from pest damage, you will get to enjoy the sweet reward! In the United States, eggplants are quite a unique plant and perhaps one of the lesser grown crops. Well, cultivating a delectable variety in your garden gives you a wonderful opportunity to explore many eggplant recipes! Just so you know, eggplants can be prepared in a number of ways including stewed, fried, baked, and used in making delicious dips. If you're a vegetarian, then eggplants are a perfect substitute for meat.
"Black Beauty" is probably the most famous eggplant cultivar in home gardens. It produces big, plump and lustrous eggplants that are flavorsome. With tested tips, growing fresh, chemical-free eggplants in your home garden can be a truly rewarding experience. Plus, did you know that you can harvest your eggplants in 3 months? Let's explore some great tips to help you grow eggplant .
Peppers
Do you know why peppers have always been a favorite veggie to grow in the home garden? It's because peppers are not fussy and pretty exciting to cultivate. Depending on the variety, you can have peppers that are sweet or fiery hot! Let your sweet green pepper become fully grown and it will turn red. As its color changes from ol' green to different shades of yellows, orange and reds, so does the flavor! Enjoy growing tremendous assortment of pepper varieties right in your backyard or home garden.
Sweet green peppers add rich flavor to stir-fries and salads, slightly spicy peppers infuse savory aroma and punch to salsas, while hot peppers give bolt jolts of flavor! Additionally, apart from the freedom to select flavor and colors, you also get to choose the shape. "Bell pepper" shapes which are lengthy and slender are classic but there are also interesting varieties that are round or often called, "cherry peppers". Whether your taste buds prefer sweet bell peppers or sizzling hot Jalapenos, a ready-to-pick peppers right in your backyard will make any recipe instantly delicious!
So what are you waiting for? Start growing your own healthy and flavorful peppers with these simple guidelines! And go to our website for more information on growing peppers
Tomatoes
You know what? Tomato gardening is easy, in fact tomato plants can grow almost anywhere! The U.S Department of Agriculture also confirmed that tomatoes are the most sought after home-grown veggie in the country. So do not easily get bogged down in seemingly intricate guidelines about tomato growing. Even if you're not botanically exalted, you can produce your own delicious, juicy tomatoes.
However, tomato plants take some time to cultivate so you need to have great patience, plus a little "tender, loving care". No worries because after all the time and effort you've rendered, a bountiful harvest awaits you. As you probably know, tomatoes are rich in Vitamins C and A, plus nutrients like iron, calcium and folic acid. Tomatoes even contain lycopene which helps prevent some types of cancer. In other words, keep eating those tomatoes! To help you get started, here are some great tips for growing healthful tomatoes.
Related Articles