The Wooden Birdhouse
Welcome to a small peice of my backyard!!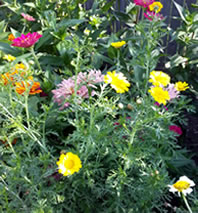 The summer months are special and there is nothing I enjoy more then to dig around in the backyard and watch the flowers bloom. As the hummingbirds and butterflies fill the air so does the never ending cycle of staking plants, building watering devices, weeding, and providing for nature to get the full gratification of the summer months.
Throughout the years, I have come up with many gismos and gadgets to enhance my gardening skills along with ways to save a lot of money in the process. I have compiled a lot of my ideas along with pictures and video to help you turn your backyard into a summer haven.