Building a small greenhouse
I almost bought a greenhouse kit before deciding to build my own from scratch. The greenhouse I was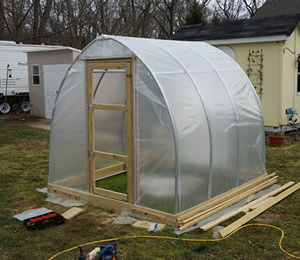 looking at did not appear strong enough to withstand a heavy snowfall and I thought I could do it better. With that said, I started the greenhouse project which came together nicely and will last much longer than a greenhouse kit.
Design
I designed my greenhouse to accommodate 14 – 1040 flats and a center walkway that could be used for potted plants. I put together several different designs gauging what materials I had on hand and what I wanted to spend. The final decision was a 7X7 greenhouse, roughly 50sq. feet. I also wanted a door on each end for ventilation.
Materials used:
20 pieces 1-inch galvanized electrical conduit pipe
8 pieces 5/4 x 6-inch X 8-foot pressure treated decking
1 greenhouse tubing kit to join pipes together (can be bought on eBay)
1 roll of 12X50 6mil greenhouse plastic
1 50X4 roll of plastic greenhouse floor
Assorted hardware: hinges, screws, latches
The above material cost approximately $350
Constructing the Frame
I had purchased a pipe bending jig on eBay in order to bend the pipes uniformly. Once I figured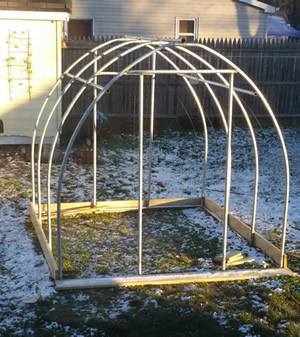 out the pattern, it took about 1 hour to bend the pipe. Each rib used about 20 feet of pipe. I purchased a greenhouse tubing connector kit (see picture) to help connect the pipe. The idea behind using these connectors is the greenhouse can easily be moved. The doorways are welded, and all the connectors have a spot weld in addition to screws to make it rigid. Wooden decking is placed around the base to provide an anchor to attach the plastic.
Attaching Plastic
Attaching the plastic can be tricky and best done with several people. First step is to attach the base of one of the sides and pull it over tight to the other side. Attach to base by first stapling it and then pinch it between a strip of wood and the base. You should pull it both ways to ensure there are no wrinkles and make sure it is centered so that you can wrap around the ends into the doorway. A wooden frame was constructed on the inside of the doorways bolted to the steel frame with self-threading screes. The plastic was then wrapped around the doorways and a thin wood strip was used to pinch the plastic in place. Regular T-55 staples are enough to hold the plastic in place before pinching it with wooden strips.
Building Doors
I measured the door opening and built my door from wood deck boards. I ripped them down to 3-inchs and assembled the doors with screws and steel braces purchased in the hardware store. On the inside of the door opening, I used a very heavy screen which made the doors rigid and plastic on the outside for starters. Since I have removed the plastic and replaced with removable windows to help with ventilation.
Conclusion
The result was a greenhouse, with proper care that will last a lifetime. It is anchored to the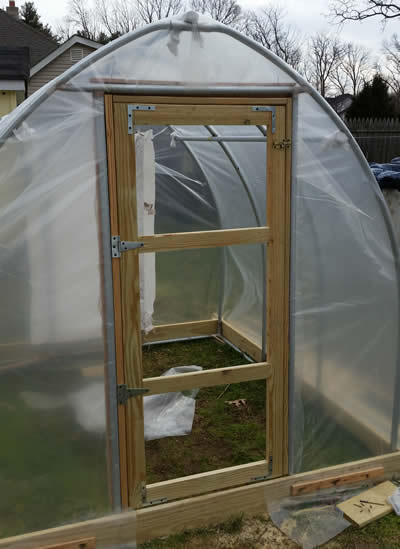 ground and can easily be moved (I have moved it 3 times) with minimum effort. I have many improvements over the past couple of years and overall very happy with the result.
Greenhouse Heat
There a several ways to heat a small greenhouse with forced hot air being the most popular. You can buy a small heater from $20 up to $250 for a small greenhouse. I used a $20 (use at your own risk), 1500-watt heater and it kept things alive on a 6-degree f morning. They make actual greenhouse 1500-watt heater and it is about $120. The difference is the cheaper model is not designed for a greenhouse where the more expensive model is semi-waterproof and intended to be used outdoors. It is imperative that you use a GFI outlet in your greenhouse especially if you plan to use a heater not designed for outdoor use to avoid electrocution.
There are drawbacks to using hot air heating:
It dries out the plants and requires more detail regarding watering.
It is expensive to operate and 1500 watt heater will cost about $60 to run on a cold month.
You are heating the whole greenhouse when you only need to heat the soil and immediate area around the plant.
Hot Water Heated Benches
An alternative to hot air heat is the use of a heated bench. I use this method to heat my greenhouse. It cost about $350 to install with copper pipe but you're only heating the plants not the greenhouse. I use a small electric hot water heater, a circulator pump controlled by a thermostat and 70 feet of half inch copper tubing on an 80 X 24-inch bench. I also use automotive antifreeze to prevent it from freezing
when not in use. The hot water heater is set for 120 degrees which provides a 75-degree soil temperature and an ambient temperature of approximately 55-60 degrees around the plants. It also is enough to keep the rest of the greenhouse from freezing. The thermostat shuts down the circulator pump when the greenhouse reaches 70 degrees. Not only does it cost less to operate, it does not dry out the plants. I also find the plants are healthier after moving them outdoors as they become acclimated to cooler air temperatures at night.